The Battle Of The Four Slide Machines
Posted on April 29, 2019 by Bihler of America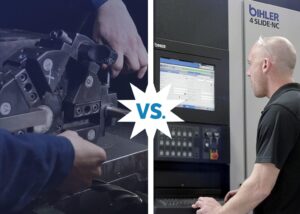 Mechanical vs. Servo-Driven Four Slide Machines
Let's get ready to rumble!
Manufacturing businesses face a daily battle to deliver high-performance productivity, greater efficiency, increased production run time, reduced setup and downtime, and more product with less waste. For decades, companies have been using outdated technology to drive production goals. Currently, the recurring problem is more evident than ever due to the limited maintenance and upkeep capabilities for mechanical four slide machines.
Fortunately, thanks to Bihler technology, a next-generation solution has arrived to "dethrone" the accepted, established limitations of the mechanical four slide – one that's reigned as heavyweight champion of parts manufacturing.
To help present a fair competition and determine a true winner, we've set up a "five-round" comparison and have challenged the competitors to face-off in five critical performance categories to determine the ultimate world-champion of four slide proficiency, production and profitability.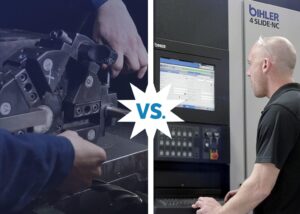 Round 1: MACHINE SETUP TIME
Mechanical: 8 hours
Servo-driven: 1 hour
Machine set up in four-slide manufacturing is known to be a time-consuming process that can take more than eight hours. A timely reduction in setup time for machine prep can significantly reduce the facilities' overall run time. With the Bihler 4 Slide-NC, new part setups can take less than one hour, adding nearly a full shift worth of time to the production process. Over the course of a year, facilities will recover hundreds of hours of production time and free up valuable setup personnel resources.
WINNER: Bihler 4 Slide-NC
Round 2: NEW CAMS
Mechanical: Up TO $5000.00
Servo-driven: Eliminates the need for new cams
The real cost of a new set of cams goes up to $5,000, which is a recurring expense every time a timing change takes place.
The Bihler 4 Slide-NC has eliminated the need for new cams by offering fully adjustable and programmable timing changes from the touch-screen VC1 Control System. In addition to lowering part costs, the time-saving machinery will get rid of the wait time on design, delivery and order processing. The VC1 allows the operator to program individual motion profiles for optimized production processes.
WINNER: Bihler 4 Slide-NC
Round 3: PPM RUN RATE
Mechanical: 70-80 per minute
Servo-driven: 160+ per minute
Many facilities typically run an average parts-per-minute (ppm) on any given machine in the range of 70-80 ppm. With the advanced VC1 control module and German-engineered servos, the Bihler 4 Slide-NC typically doubles the average output of mechanical four-slide machines. It may seem unbelievable to hear at first; hence, Bihler offers to run a validation trial for your part, along with your existing tooling and material, on the 4 Slide-NC at the Bihler facility in Phillipsburg, NJ.
WINNER: Bihler 4 Slide-NC
Round 4: PRODUCTION ANALYSIS AND ADJUSTMENTS
Mechanical: Post-run – machine operator
Servo-driven: Real time – VCI Controller, ten thousand times per second
Advanced, servo-driven four-slide machines undergo an entirely different measure and analyze inputs and outputs in real-time. On the contrary, mechanical four slides machine operators have to measure the output after a part run, then make adjustments, then re-run the part to ensure accuracy.
The intelligence within the 4 Slide-NC VC1 controller measures and analyzes every process parameter in real-time via sensors on each of the servo drives. It measures distance, torque and temperature over ten thousand times per second by adjusting automatically, stopping production if needed, and even alerting an operator or supervisor directly on their smartphone or another smart device. This innovative 4 Slide-NC system creates tremendous cost-savings and efficiency by significantly reducing labor, lead time, defects and material costs.
WINNER: Bihler 4 Slide-NC
Round 5: "CLOSE TO FINISH" IN A SINGLE PROCESS
Mechanical: Limited stamping and forming tasks
Servo-driven: Addition of standard modules creates a "one-machine" solution
Mechanical four-slide machines are generally designed to perform only a specific set of slide stamping and forming tasks to produce parts. Bihler 4 Slide-NC has revolutionized four slide manufacturing by easily adding the standard Bihler process modules, creating a "one-machine" solution to optimizing parts to a finished product in a single process, thus eliminating costly secondary operations.
All add-on modules are quick additions to any part run with the Bihler 4 Slide-NC plug-and-play programmable system. The VC1 controller is pre-programmed to accept and integrate any of the available modules and is customizable to accommodate more unique specifications.
Standard Bihler servo processing modules include Radial Gripper Feed, Presses, Contact Welding, Thread Forming, Screw Insertion, Conveyor Belt, Pick & Place, Lift-Rotate…and others.
WINNER: Bihler 4 Slide-NC
THE NEW AND UNDISPUTED CHAMPION: Bihler's Servo-Driven 4 Slide-NC
A winning combination of efficiency, reliability, performance and productivity.
This Bihler technology presents next-generation manufacturing capabilities that are unmatched anywhere in the market. Bihler of America and the Bihler 4 Slide-NC division are available for contact, visit and demonstration. Upgrade your manufacturing to the next level and start on your path to becoming a 21st-century manufacturing and profitability heavyweight champion.
Contact us today at 908-329-9116 for more information and to schedule a demonstration of the revolutionary Bihler 4 Slide-NC.
Download the Bihler 4Slide NC Infosheet