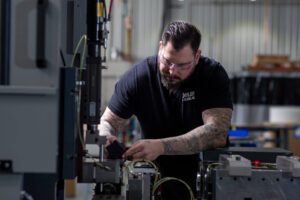 Posted on June 24, 2020 by Bihler of America
In the digital age, productivity, cost reductions, and the value of time, are all increased with the help of automation technology. Long setup times pose a challenge in manufacturing facilities because they create efficiency losses – the average machine set-up, or a tooling changeover, is a process that often takes four or more hours. A study conducted by McKinsey & Company shows that by 2030, over 45% of factory tasks will be automated. The Bihler 4 slide-NC®, with its controller and its easy-to-use interface, enables significantly increased levels of automation in the 4-slide manufacturing processes. The adoption of the "instant setup" technology will replace the lengthy process of conducting a tooling change.
On a traditional machine, every changeover involves a manual setup of all of the tools onto the tool holders, and then a timing setup on each cam. Upon the completion of "'the basic," machine run-in and manual adjustments are essential to ensure that the part specifications are met. The manual process can take several hours of shimming tools in multiple directions, and involves the guesswork of cam adjustments.
Instant setup feature.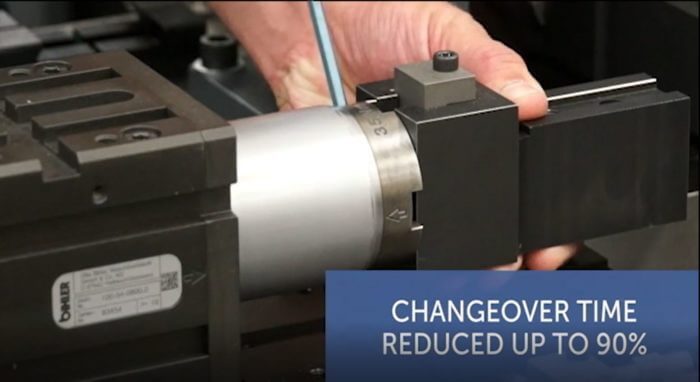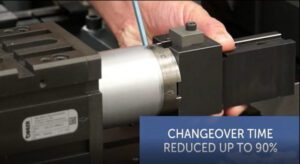 "Instant set up" is supported by a quick change tooling holder, which allows for easy, one-screw removal of the current production tool, and installation of the new tool onto the servo slide. And, the Bihler VariControl VC1 controller offers smooth operation and the ability to program individual control and servo modules via a 15″ TFT touchscreen operating panel. The VC1 controller, which stores multiple tooling programs, makes it possible to perform changeovers for part-to-part in under 30 minutes.
VC1 Controller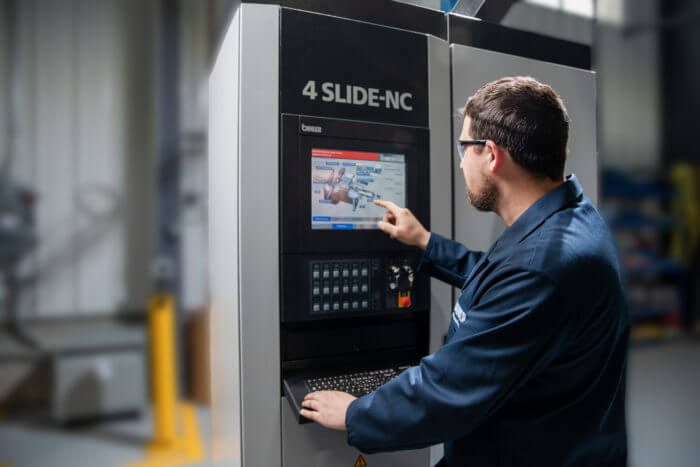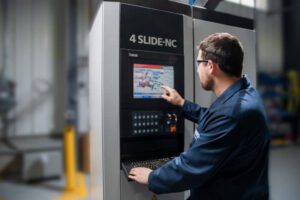 Bihler servo processing modules operate in exact synchronization with the machine, expediting quick cycle speeds and rapid signal processing. For maximum reliability, every process module monitors the recording of measured values, sensors, and position controls. The intuitive menu assists users with all activities, and simple input screens facilitate quick parameterization of servo process modules. Structured operating menus are easy to use – each process has customized input fields at different levels, as well as detailed optimization capabilities.
Two easy steps:
Physical Tool Change – as demonstrated in the video above
Load Control Parameters into the controller
To achieve the Physical Tool Change, tooling adapters are keyed for horizontal alignment, to ensure the integration of the vertically aligned and adjustable / interchangeable height stop. Once the initial set up is complete, along with the established control values, the next physical tool setup can be realized in as little as 15 minutes. Similar to established and standardized work piece holders for milling centers or EDM (Electro Discharge Machine), the 4Slide-NC can support offline setup stations for service and maintenance in the tool room.
The VC1 controller retains all of the virtual cam timing, motions for tool path, feed parameters, or optional pneumatic or servo module configurations, and automatically resets the system to those parameters as soon as an existing configuration file is called. With the VC1, any required adjustments can be completed in seconds with high levels of accuracy – down to 0.01mm (0.0004"). Once the desired settings have been devised, the new values can be instantly saved for future use. The VC1 can store almost unlimited tooling programs, allowing not only programs for different parts, but even multiple program variations for the same part with different material specifications. (For example, hardness range upper / lower tolerance might require more over bend on one slide.)
The compact NC units offer plenty of creativity for custom manufacturing processes, as the maximum force is achievable at any time and in any stroke position. Working stroke, working location, and motion profile are freely programmable over the entire operating range. Forming motions can be implemented with constant force transmission – the standard Servo Slide units have a quick release and quick-change system for tool holders. Conversion of the motion profiles for the individual movements during tool changes is an easy task, performed quickly and simply via programming – and without additional mechanical elements.
Key Results
Combining the fast changeover time with the run times of up to 250 ppm, the Bihler 4 Slide-NC® System will provide fast ROI, along with the potential to increase profits on smaller runs – providing a manufacturer with the capability to now do a run of parts that may not previously have been desirable or profitable. With low machine downtime, and with the capacity to manufacture up to 15,000 parts per hour, the Bihler 4 Slide-NC® delivers an unmatched level of productivity in 4-slide manufacturing. The Bihler 4 Slide-NC® machine provides users with a user-friendly precision experience that eliminates hours of menial setup tasks that could otherwise consume a full workday.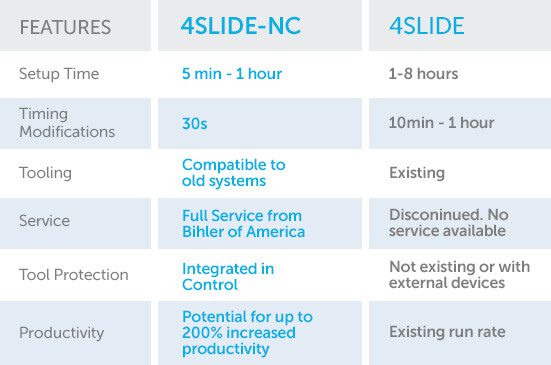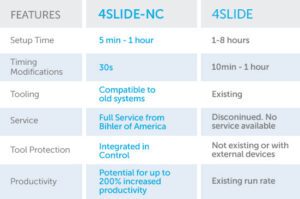 View the Info sheet information on Bihler 4 slide NC Specifications.